designboom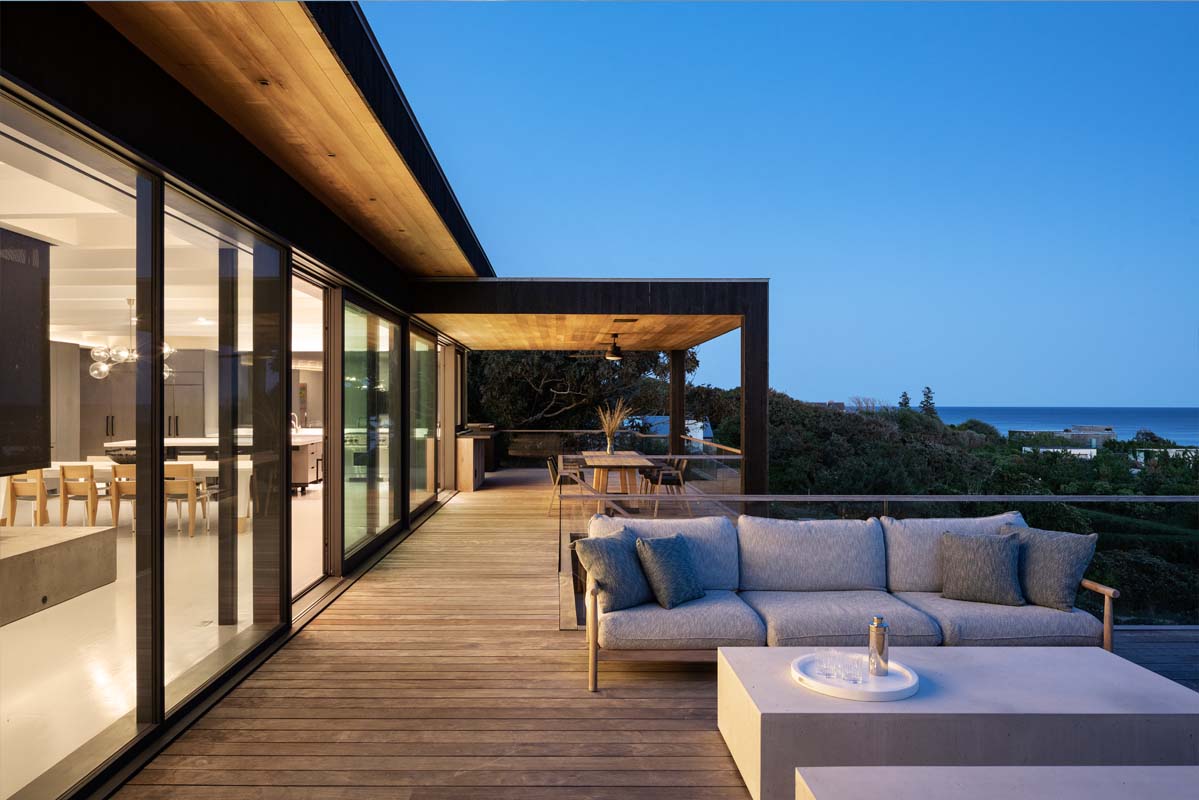 A GETAWAY IN THE ROLLING DUNES

Manhattan-based Robert Young Architects takes to the coastal cliffs of Montauk to design Hither Hills, a year-round haven for a family from the city. The home is nestled into its postcard setting of rolling dunes which lead toward Amagansett. Although desirable, the site comes with many restrictions, being bordered by roads and neighbors on all sides. The land's steep inclines further added to the challenge.

'Montauk has a long history of smaller-scale beach homes and surf shacks, so we wanted to keep a low profile on the side that faces the entryway,' architect Robert Young tells designboom. 'From the front, the house appears as a low-slung pavilion.'

THE SITE IS RESOLVED LIKE A THREE-DIMENSIONAL PUZZLE

The team at Robert Young Architects makes use of the unique topography of the site to their advantage, shaping Hither Hills to harmonize architecture, interiors, and landscape. The resulting layout cleverly cascades down the hillside, forming an array of outdoor terraces that enhanced the home's indoor/outdoor atmosphere, 'resolved like a three-dimensional puzzle.'

The home is built with two access points in mind: one from the residential street above, and one from the Old Montauk Highway along the beach below. To accommodate the zoning regulations, the structure appears from the street as a single-story pavilion with a low profile. Inside, it opens up to reveal multiple rooms with views of the ocean and the surrounding area.

HITHER HILLS DISAPPEARS INTO THE LANDSCAPE

Robert Young Architects designs its Hither Hills with an exterior of charred and natural cedar and glass. The structure is intended to endure the coastal climate and gradually weather over time. Inside, white-painted wood creates a relaxed, beach-like atmosphere. A concrete retaining wall that serves a civil engineering purpose has been left visible, connecting the various levels of the house both aesthetically and structurally.

The house is integrated into its natural surroundings with its stepping green roofs. To strengthen the connection between the inside and outside, the architect created an exterior staircase which connects all of the levels and spaces. On the higher floors, the concrete stairs match the architecture of the house, and on the lower floors, the concrete steps transform into landscape pavers, allowing for a visually and experientially unified space between the house and its surroundings.