BOW WOW HAUS
Animal Rescue Fund of the Hamptons, NY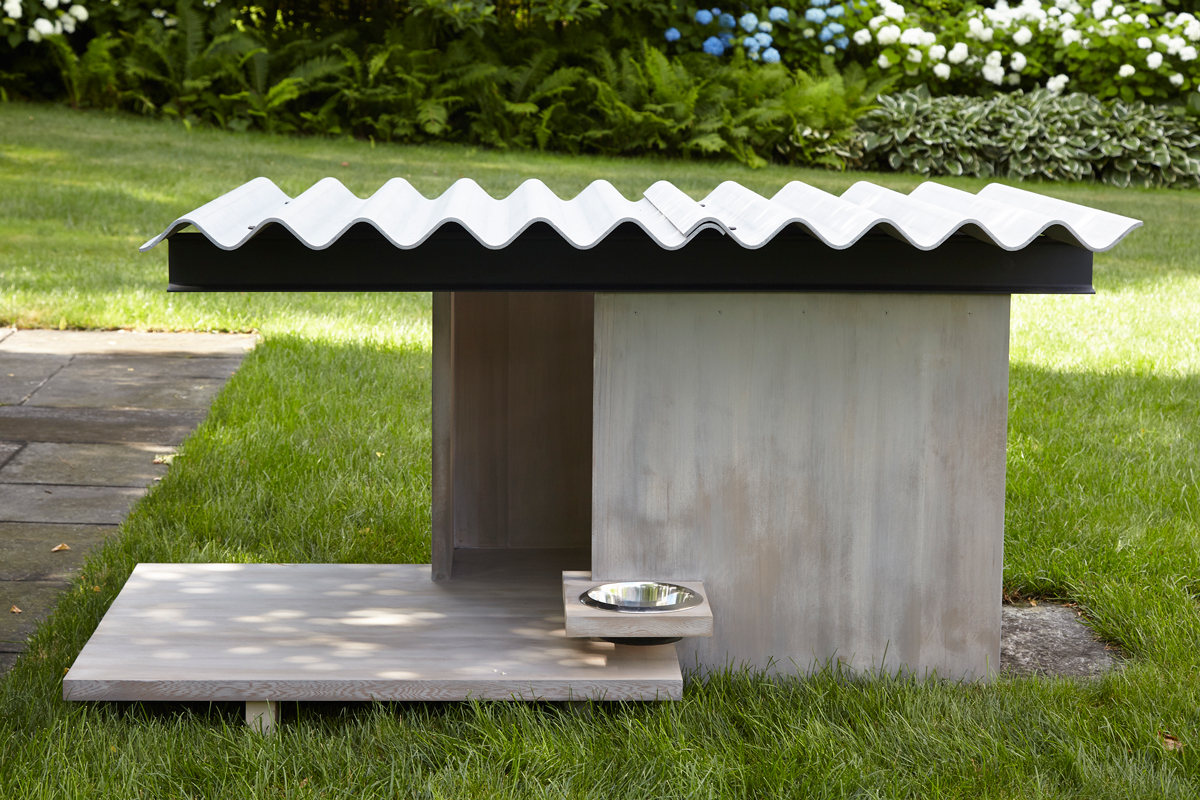 RYA teamed up with a group of Hamptons architects, builders and building suppliers to come up with creative solutions to shelter dogs and cats and build them benefit a great cause. All these shelters will be auctioned off at ARF's annual benefit on August 18 to raise money for ARF, all thanks to the imagination, persistence, organizational chops of 14 year old dog lover Luke Louchheim of Sagaponack for realizing his dream to "combine my love of architecture with my desire to benefit the dogs and cats at ARF". The shelters were designed by Hamptons architects and crafted by local builders using materials from by local building suppliers. Photographed by Tria Giovan. All contributions were pro-bono.
RYA's entry "Bow Wow Haus" was designed with the dog's perspective in mind. We asked ourselves: "what do dogs really enjoy?" Only dogs know the answer for sure, but they seem to enjoy many of the same things we humans do in our summer residences: relaxed indoor-outdoor living combined with cozy sheltered nooks, cross ventilation, natural light and easy access to refreshments. In this design, that sense of enclosure and security dogs love is found in the inside corner, a perfect place to curl up and take a nap in the shade, while openings on the diagonal not only provide light and cross ventilation, but views to the outside world for the peace of mind that comes with an easy view of who's coming.
To see all of the entries, visit the arf of the Hamptons website
here
, or visit the auction site
here
.
CONTRIBUTORS
:
1/ BOW WOW HAUS, Robert Young Architects and Fountainhead Construction 2/ ALPHA DOG: Luke Louchheim and Joe Louchheim, 3/ ARF BARN: Andrew Reyniak Architect / ARAPC, AIA and N. Zappola & Associates 4/ DOMUS CANUS: Katherine McCoy Architecture and Walter Sternlieb, 5/ PITCHED RUFF: Blaze Makoid Architecture and Wright and Company, 6/ SHAGGY DOGS: MB Architecture and Michael Davis Design and Construction 7/ SIT STAY: Estudio Ramos and Bulgin & Associates, 8/ SNOOP ENIGMA: Beeton & Company and Landscape Details, 9/ PIRRRCH: Stelle Lomont Rouhani Architects and Artisan Construction Associates, 10/ SNOOZER: Martin Architects and JJK Construction
PRINCIPAL-IN-CHARGE: Robert Young, AIA; PROJECT ARCHITECT: Greg Tietjen; BUILDER: Fountainhead Construction - Gary Seff; PHOTOGRAPHY: Tria Giovan (c).
RECOGNITION
Architectural Digest
East Hampton Press
East Hampton Star