AIA Long Island Archi Award, 2021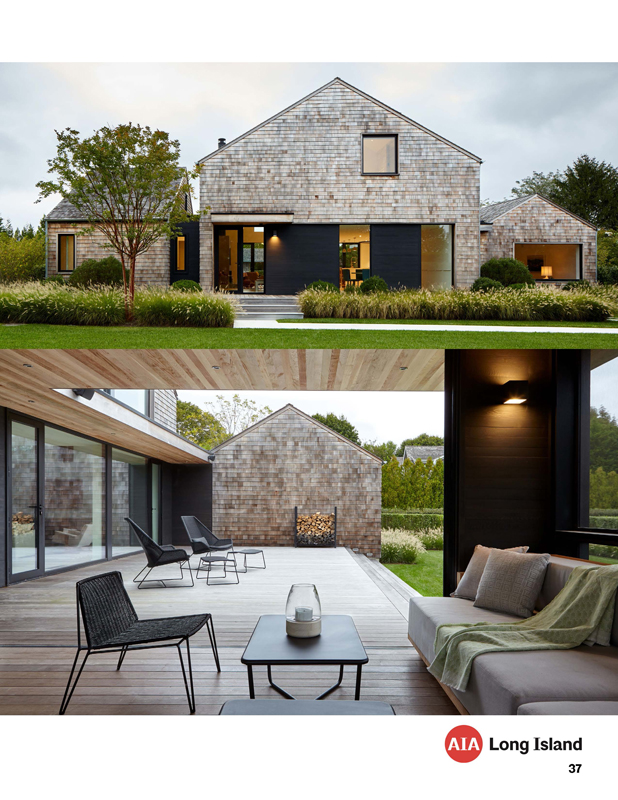 The house in Bridgehampton is the result of a creative repurposing of a dilapidated building. Built in the 1980s, the original house had fallen into functional disrepair and became stylistically outdated and Considered to be at the end of its lifespan, the previous owners had placed it on the market as a tear- down.

Seeing possibility with the existing structure and wanting to take a more sustainable approach, the architect proposed an alternative: instead of razing and beginning anew, they would design a purposeful renovation, reimagining the 40-year-old structure as a modern house tailored to its new owners.

From outside, the renovation transformed the house's architectural presence, preserving the building's underlying structure while taking a clean- slate approach to its envelope. The original building had promising bones, forming a loose assemblage of pitched- roof volumes. But the architect identified a lack of visual clarity in the whole, owing to the vertical siding that had been painted uniformly white (which masked the interplay between the volumes), and to the arrangement of windows and doors (which showed little compositional relationship to the overall forms). To give each volume a distinct presence, the architect clad them in cedar shingles, a nod to the region's vernacular, while using flat cedar planks stained black to provide a visual hyphen between the pitched roof forms.

Inside, a thoughtful reconfiguration of spaces optimized the layout of the interior, establishing increased privacy, opening up more preferable views, and creating indoor/outdoor environments. A new sun terrace coupled with a new covered screened porch and a floor-to-ceiling glazed living area allow the clients to experience indoor/outdoor living for much of the calendar year.

This creative reimagination of a run- down house not only creates a thoughtful connection to the region's past; it also establishes a contemporary retreat for the client's future.